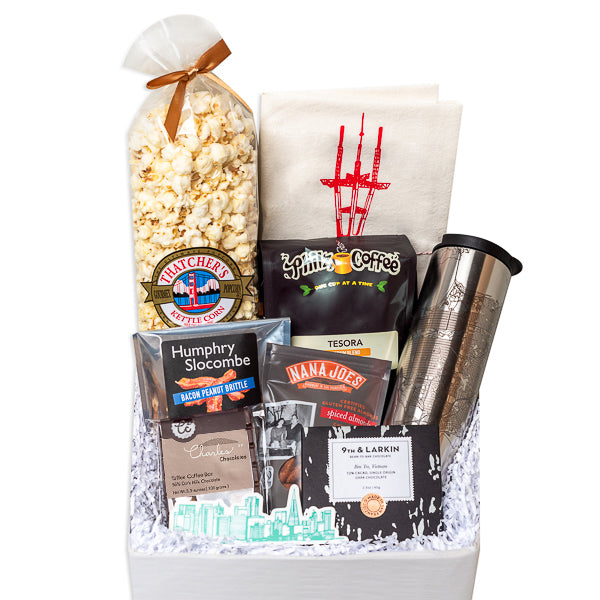 Deluxe Made in San Francisco
Our 'Deluxe Made in San Francisco' gift box is all about makers who are based in the city of San Francisco. Send some love directly from SF! 'Deluxe Made in San Francisco' comes in an extra large white gift box with a beautiful bow in your choice of ribbon color with our letterpress or embossed gift tag attached. Write a personal message to include with your gift from our greeting card selection from local stationers. Includes 9 items:
The Heated, Sutro Tower Tea Towel: The skyline of San Francisco just wouldn't be the same without this landmark. This dish towel was printed in San Francisco with non-toxic, water-based red ink. Absorbent, 100% natural flour sack cotton kitchen dish towel.
Thatcher's Popcorn, Kettle Corn Popcorn: Kettle corn popcorn has that perfect balance of salty and sweet. Once the kernels have popped, the popcorn is tossed with a little salt and a little sugar. 
Philz Coffee, Tesora Blend Coffee: Seven years in the making and the first blend created by Phil himself, the Tesora is the quintessential Philz blend. Aromas of Caramel, Nuts and Butter. Acidity: Medium. Body: Full 12oz whole coffee beans.
Humphrey Slocombe, Peanut Bacon Brittle: Bacon Peanut Brittle...roasted peanuts, tons of bacon and made one batch at a time. It's a salty-sweet meat treat. 
Jace Maps, San Francisco Map Tall Stainless Steel Tumbler: This elegant and sturdy tall stainless steel tumbler has an engraved map of San Francisco. Removable, dishwasher safe plastic lid. The 17oz SF map tumbler is double walled and vacuum insulated to keep hot drinks warm and cold drinks chilled. 
Nana Joes, Spiced Almonds: Almonds with a hint of warm cumin, spicy chile and bright citrus. This delicious on-the-go size treat comes in a resealable 3oz bag, easy to take with you. (V).
9th & Larkin, Ben Tre, Vietnam 72% Dark Chocolate Bar: 9th & Larkin makes bean to bar single origin chocolate in small batches. Each batch is handcrafted with the highest quality cacao beans sourced from a single region, and using as few ingredients possible to achieve the purest flavor profile. The Ben Tre dark chocolate bar is rich with notes of bright fruits on a solid chocolate background. 72% cacao single origin dark chocolate.
Charles Chocolates, Dark Milk Chocolate Toffee Coffee Bar: Packed with fresh almond toffee that is cooked in copper kettles, cooled and broken into large chunks and then combined with locally-roasted coffee beans, 55% (dark) milk chocolate and a touch of fleur de sel.
Coffee n Cream Press, SF Skyline Sticker: Hand drawn San Francisco Skyline in Teal. Based in San Francisco Coffee n Cream Press is a boutique women-owned operation specializing in letterpress greeting cards, custom design, workshops and artwork. Dimensions 5.5" x 2.15". Die-cut, tear-proof, waterproof vinyl sticker.